Flexible wagons to refresh infrastructure fleet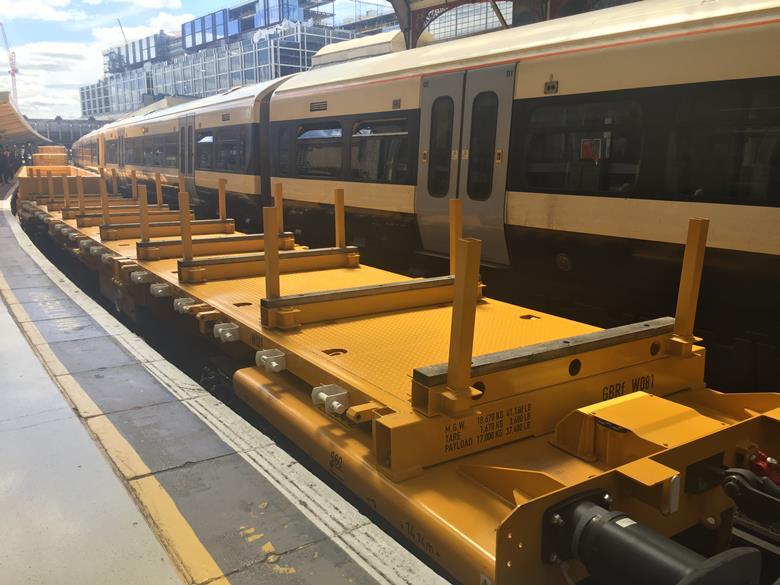 UK: Swiss wagon leasing group Wascosa marked its entry into the UK freight market with an event at London Victoria station on June 28 to unveil three designs of wagon it is delivering to refresh Network Rail's infrastructure maintenance fleet.
The company is supplying 570 vehicles under a 10-year leasing agreement, in partnership with GB Railfreight which will be responsible for management and maintenance of the fleet. GBRf has in turn subcontracted the maintenance work to Wabtec's Doncaster plant.
In 2018 Network Rail tendered for the provision of 2 000 wagons to refresh the fleet used to operate its infrastructure trains, including the delivery and removal of materials for both maintenance and renewals work. The Wascosa vehicles are the only new stock, with the remainder being existing vehicles refreshed or repurposed.
All 570 vehicles are being manufactured for Wascosa by Greenbrier Europe, with 310 box wagons of two types coming from the Astra Rail plant in Romania and 260 Flex Freight container flats being assembled at Swydnica in Poland.
Wascosa's UK agent Mick Tinsley told
Rail Business UK
that around 320 wagons have so far been delivered, with the remainder expected to arrive by December, around six months ahead of the original schedule.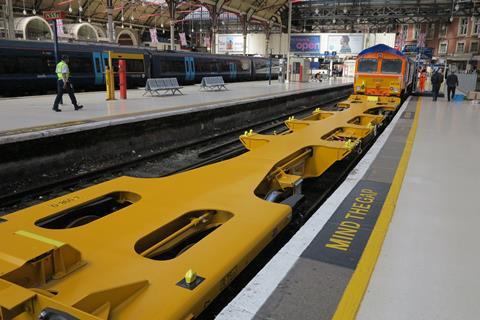 Flex Freight System
At the heart of the project are 260 multi-purpose wagons based on Wascosa's 'Flex Freight' concept, which has been developed over the past 15 years and adopted by a number of European freight shippers including German chemical group BASF.
The basic vehicles are standard FEA-W intermodal flats, which can be fitted with a variety of modular superstructure elements as required. GB Railfreight is procuring the superstructures directly from Greenbrier, buying sufficient elements for 218 vehicles and refurbishing existing modules for the remaining 42.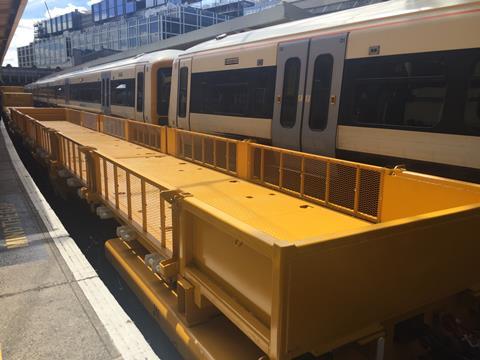 The superstructure elements are based around a 20 ft flat deck weighing 1·8 tonnes, of which three are fitted to each 60 ft FEA. They can be used as flatbeds for carrying track panels and sleepers, or equipped with bolsters to carry rails. A third variant has bolt-on end units and mesh drop-sides; these will be used to move a variety of smaller materials, bagged goods and other infrastructure components. Individual modules can be lifted on and off the wagons using a fork-lift truck and stacked at the hub depots when not required, helping to minimise storage space.
Other modules may also be developed in future, with GBRf insiders suggesting that this could perhaps include specialist overhead line maintenance units that are only used occasionally.
Because the weight of the superstructure is carried through the container spigots, these elements are regarded as part of the load, rather than the wagon itself. This simplifies the acceptance process, as the FEA-W flats are already TSI-compliant, and the superstructure elements do not require separate certification, providing they meet ISO standards and fit the loading gauge and weight restrictions. The vehicles run on Y33 bogies and are authorised for a gross load of 80 tonnes.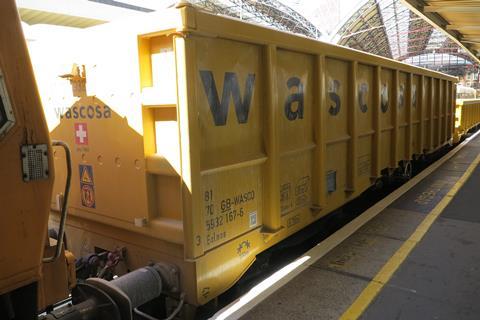 The Arad-built box wagons are primarily intended for the movement of ballast, aggregates and spoil. There are 50 JNA wagons, identical to those commonly used for aggregates traffic across the UK network. These have a capacity of 60 m
3
and will mainly be used for deliveries of ballast from quarries to Network Rail's 'virtual quarry' stockpiles. The other 260 vehicles are designated MLA, and branded as Falcon. These are very similar to the JNAs, but have lower sides to facilitate unloading by grab at worksites under overhead wires. They have a payload capacity of 43 m
3
and can carry 66 tonnes compared to 77 tonnes for the JNAs.
Delivering a better service
Hosting a locomotive naming ceremony to celebrate the partnership with Wascosa, GBRf Managing Director John Smith emphasised the growing importance of rail freight in meeting the challenges of transport decarbonisation, which would require the provision of additional rolling stock.
Recalling that GBRf had started from a baseload contract to provide infrastructure trains before expanding to become the UK's second largest rail freight operator, he hoped that the NR contract would similarly provide a springboard for Wascosa to expand into the wider UK wagon leasing market.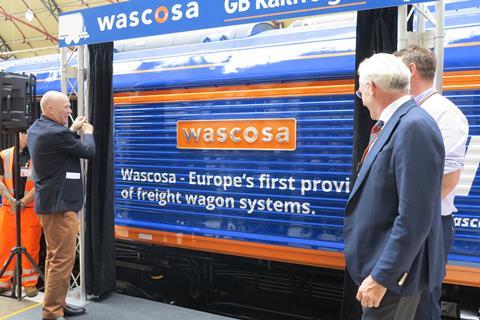 Wascosa CEO Peter Balzer explained that the Luzern-based company had been started in 1964 as a family-owned business, and now had a fleet of almost 16 000 wagons operating in 23 countries across Europe. The Network Rail contract was the group's largest single order, and a vindication of its investment in developing the Flex Freight concept over the past 15 years.
'I take great pride in this pioneering technical development', he told
Rail Business UK
, adding that BASF was currently expanding its Flex Freight fleet in Germany which includes the XXL tank containers used for the movement of specialist chemicals.
Describing the three-way partnership between Network Rail, Wascosa and GB Railfreight as 'a great example of the industry coming together', Network Rail's Engineering Services Director Leevan Finney said the infrastructure manager would 'benefit from Wascosa's vast experience as a specialist freight wagon provider across Europe. The new vehicles would help it 'deliver a better service for freight and passenger users', supporting 'critical maintenance enhancements'. The brand-new fleet would help to improve the safety culture around track renewals and maintenance, as part of a wider Safe Service Transformation Programme.